Investing in people and product
with the
aim
of building legacies
Investing in people and product
with the
aim
of building legacies
Investing in people and product
with the
aim
of building legacies
AIM is a relationship-driven private equity firm targeting investments across software, tech-enabled services and health tech.
As an engaged, always accessible investor, we pursue growth buyouts, founder-led buyouts and corporate carve-out transactions.
Headquartered in Los Angeles, AIM works with a team of senior advisors that span North America, Europe, and Australia.
AIM's founders bring more than 30+ years of cumulative experience across more than 50+ acquisitions.
Our aim is to help software and technology companies identify and execute transformative plans that have a profound impact on the industries and customers they serve.
Meeting you where you are with an innovative and collaborative mindset.​

ALIGNMENT
We pursue strong alignment grounded in a shared vision, strategic objectives and trusted relationships to embrace bold goals that inspire us.

INNOVATION​
Innovation is our oxygen. We work with teams to tie product roadmaps to market tailwinds with frameworks aimed to deliver innovation at scale.

MISSION​
We invest in people with the intent of developing high performing teams that identify with the mission and are engaged to see it through.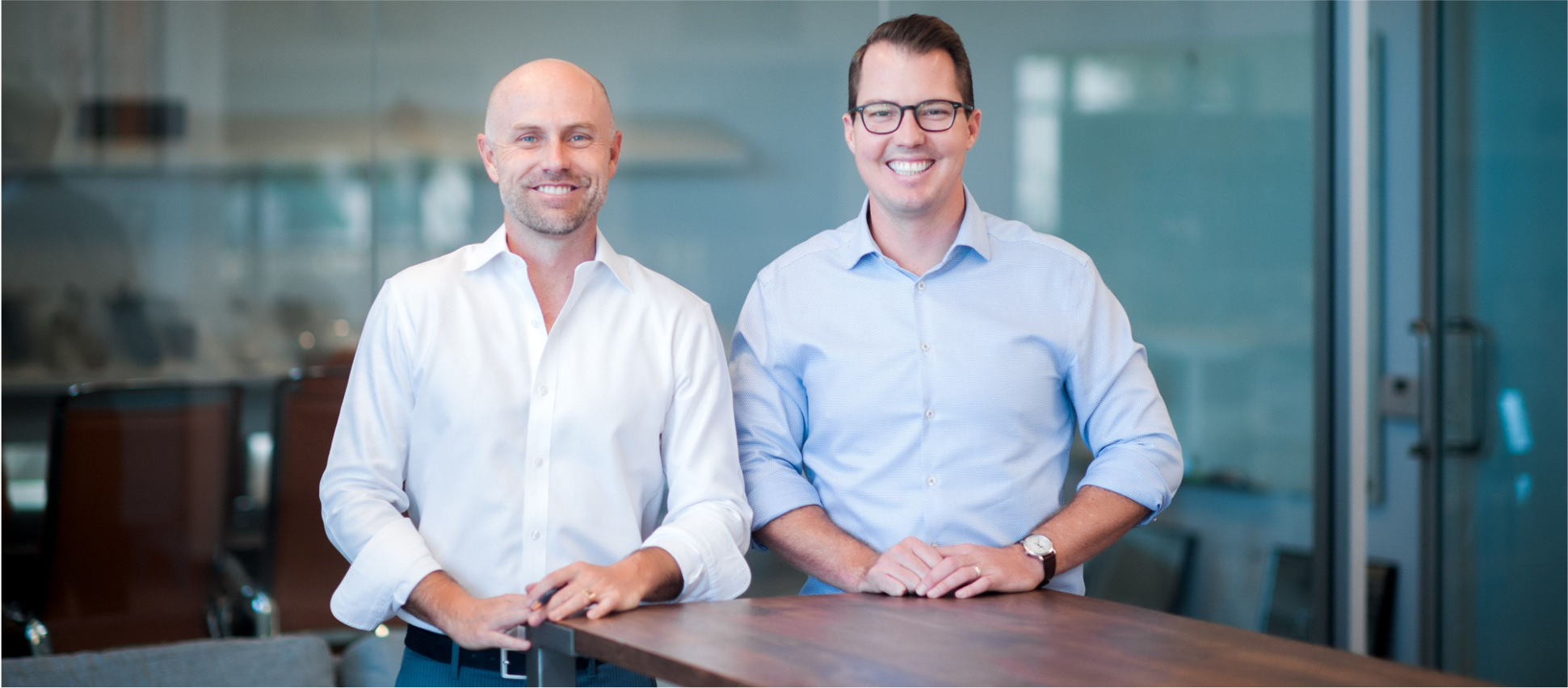 Our team is collaborative. We enjoy breaking down challenges and arriving at solutions that align with your culture and mission, while bringing best practices, years of experience, and a network of relationships that shape your journey. In founding AIM, we wanted a name that was synonymous with taking a framework-driven approach that helps teams set direction. Our aim is to bring value that directs a company's course, arriving at a thoughtful plan that prioritizes innovation while fostering a culture of high-performance execution.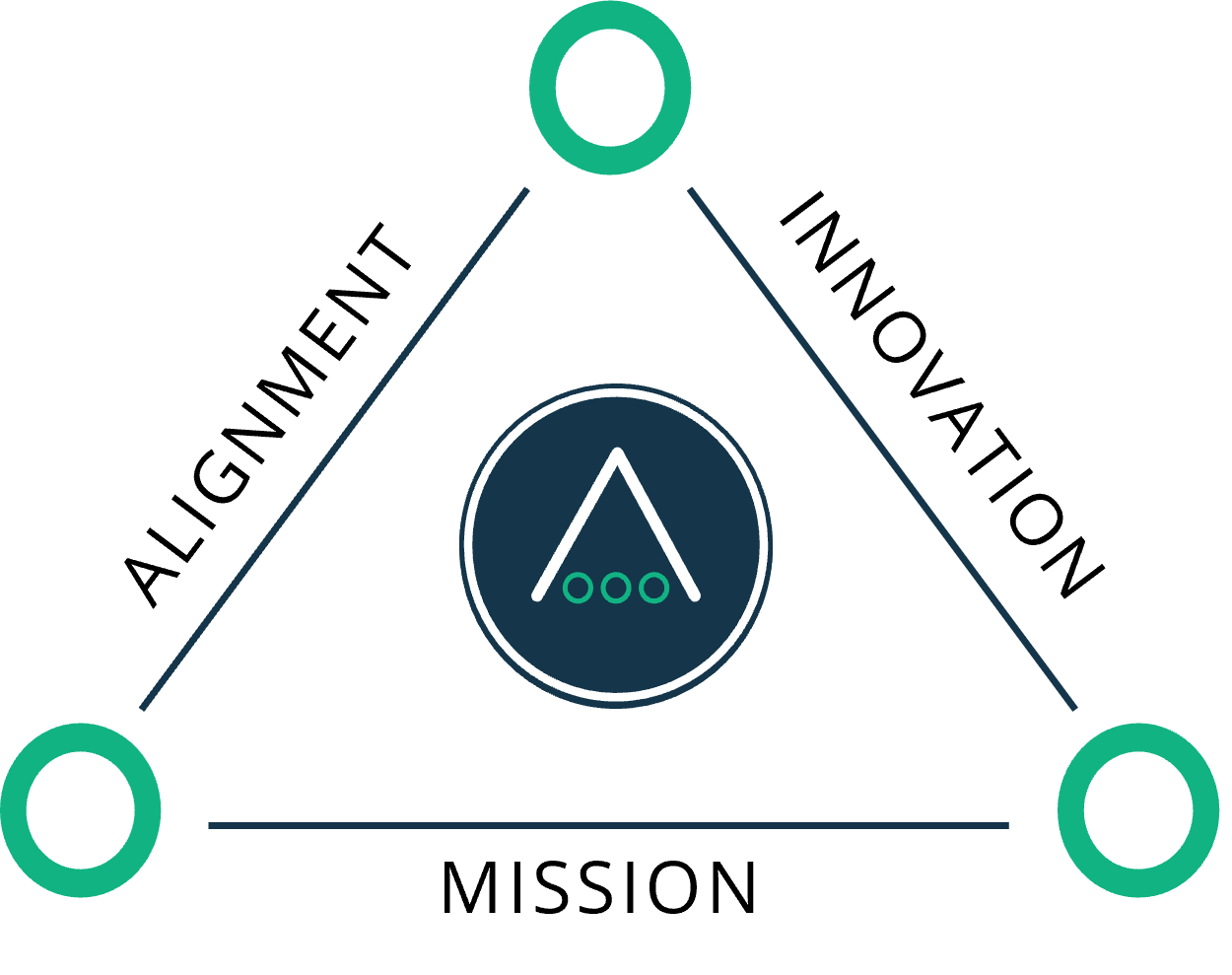 Our approach is grounded in our namesake framework that we apply to our own strategic focus as well as to those we partner with:
We believe our focused investment philosophy allows us to provide significant value to those we partner with. Committed to investing across software, tech-enabled services, and health tech, we target sub-sectors experiencing strong secular tailwinds that are benefiting from new technology adoption. We invest the time to understand market tailwinds and architectural product advantages, developing domain expertise along the way that informs our views of innovation, competition and the benefits of scale.
We strive to develop unique insights that build collaborative relationships with teams embarking on new product strategies, market consolidation, or expansion into new market adjacencies. By pursuing a product-centric approach to value creation, we aim to invest in innovative product roadmaps, acquire complementary functionality, and build the infrastructure required for lower-middle market companies not only to scale but become formidable market leaders with accelerated organic revenue growth.
FOCUSED INVESTMENT PROCESS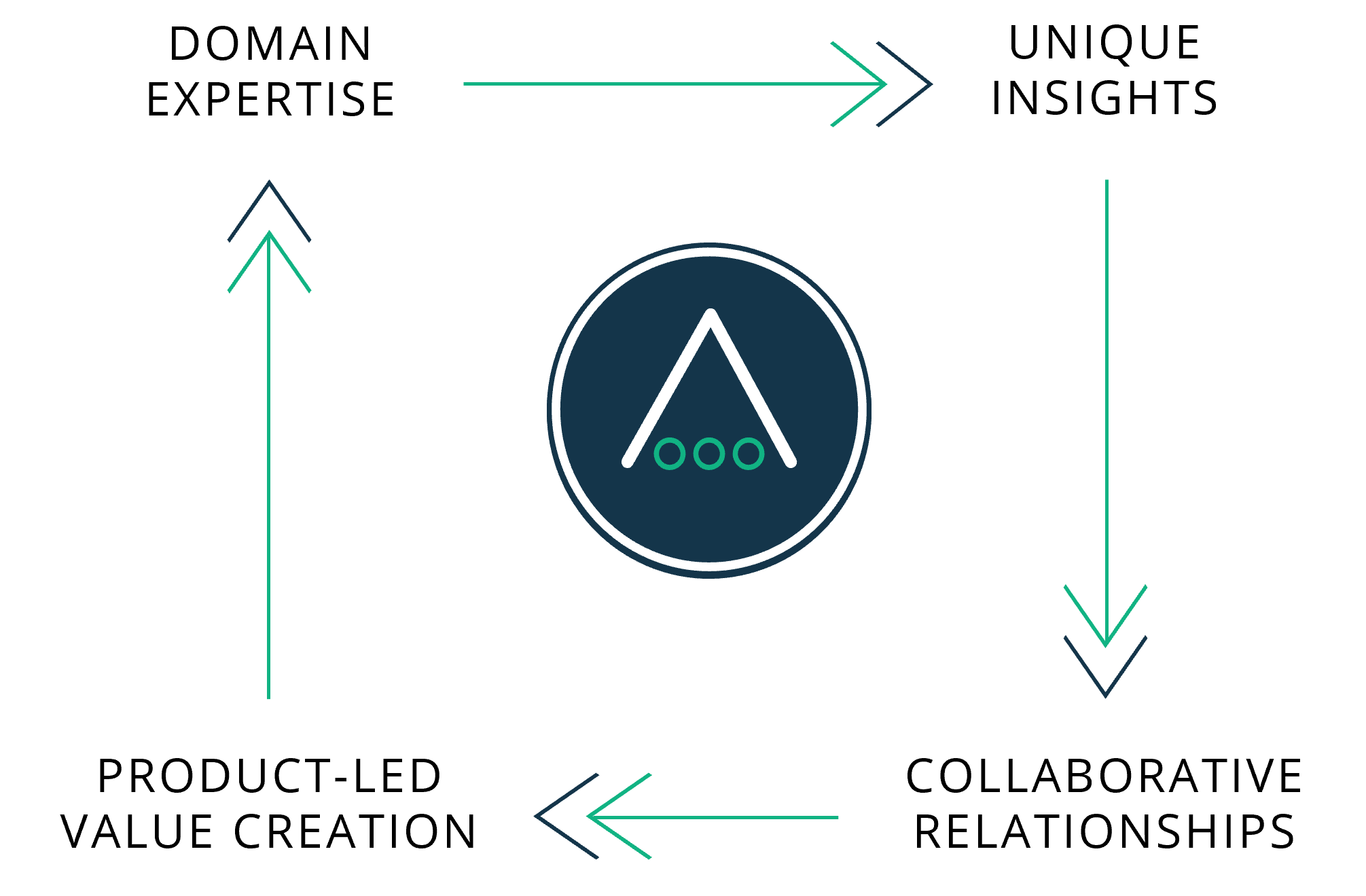 PRODUCT-LED VALUE CREATION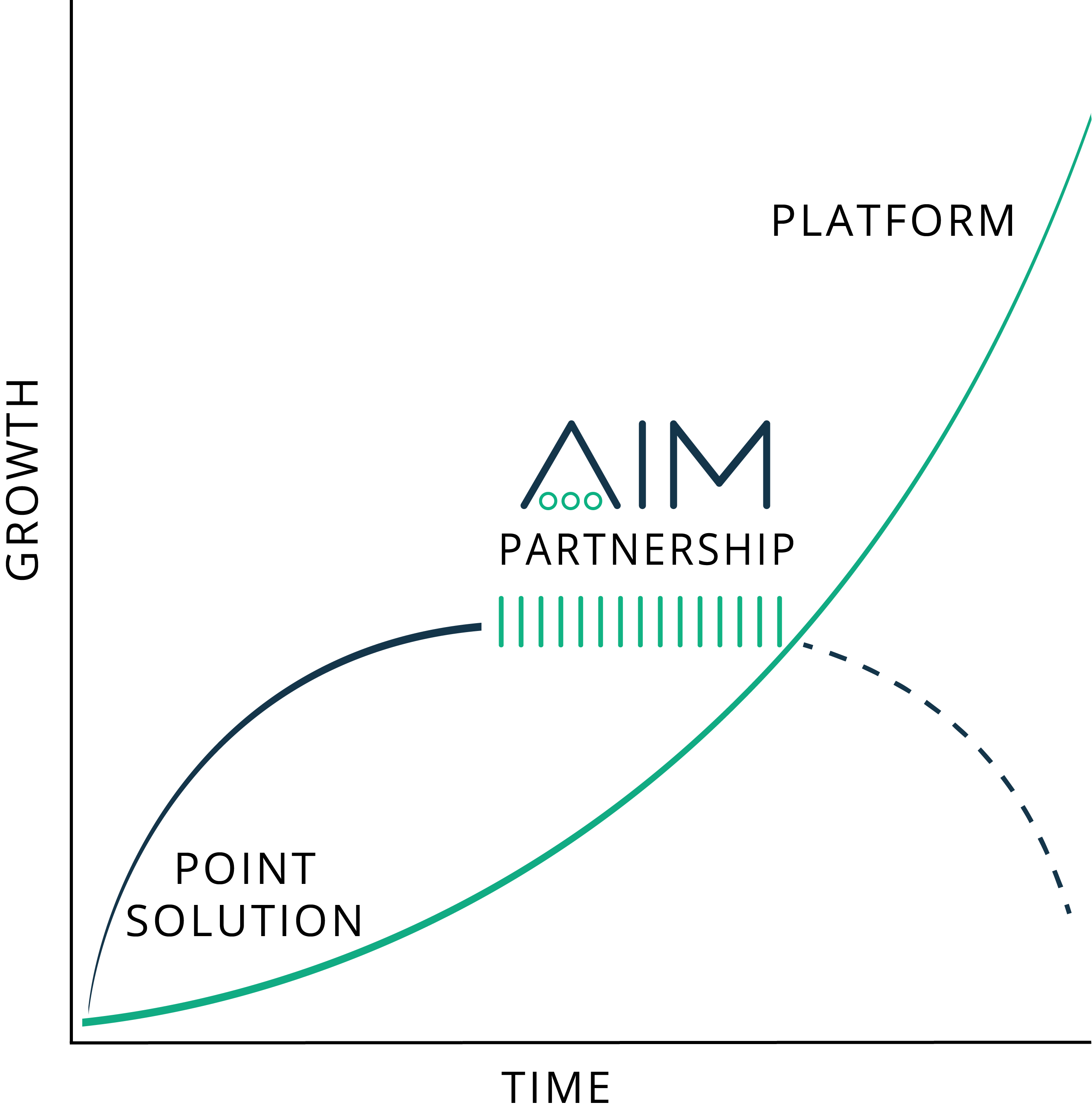 We help management teams build and acquire products or services that enable the enterprise to cross the chasm from niche market point solution (demonstrated product-market fit solving high ROI, mission-critical, customer pain points) to true system of record platforms that are deeply entrenched with their customers' operations. As illustrated on the left, the growth arc of any point solution will eventually flatten over time.
At AIM, we have decades of experience working with management to execute a product vision that results in point solutions "crossing the chasm" to become leading platforms.  Through increased investment in product infrastructure, new innovative product extensions, and buy-and-build strategies that accelerate time-to-market, we aspire to transform the value companies provide to their customers. Our investment approach includes best practices and productivity improvements that improve unit economics, though we believe our greatest value is in helping and supporting innovation that drives customer value. We invest our time in partnering with companies aspiring to collaborate on innovative product strategies that delight customers and inspire employees.
To boldly commit to innovation and culture that uniquely shapes the value we bring to your journey.
Our philosophy is to execute transformative plans with the teams we invest in. As operationally-led technology investors, we've partnered with numerous teams to unlock new strategic priorities by collaboratively identifying customer journey pain points that lead to product adjacencies, more effective routes to market, and greater customer support and retention.
We've built a deep bench of operational capabilities that help management teams accelerate these initiatives. Our sector focus has allowed us to hone best practices and build valuable relationships with accomplished technology leaders, acting as senior advisors, board members or simply helpful introductions to the teams we partner with.
Lastly, we appreciate how much culture drives high-performance execution. We're passionate about building sustainable growth that's built on a foundation of trusted relationships that aspire to innovate.
With these principles in mind, below is our Manifesto.
Our team's core principles.
JOIN THE TEAM

We aim to be a trusted teammate; showing up prepared, committed to the goal, and investing the time to get better.
PLAY TO WIN

Our culture is built on vitality, moving with conviction, competing at the highest level and winning.
BE TRANSPARENT

We aspire to always share knowledge, communicate clearly, provide direct feedback, and act with integrity in all we do.
EVOLVE OR DIE

Product innovation is the lifeblood of any organization; without it, incrementalism creeps in. We pursue technology in our own business as well as those we partner with.
THINK CREATIVELY

The greatest challenges often require creative solutions. We strive to remove bias, use first principle thinking, and arrive at unique insights that shape our decisions.
BUILD TRUST

We aim to build trust by delivering on our commitments, soliciting how we can do better, and investing in relationships that empower us to reach new heights.
OWN THE OUTCOME

We believe leaders must own everything. There is no one else to blame. We are always focused on the mission and how best to accomplish it.
LEAD WITH HUMILITY

We know our past accomplishments are not indicative of our future success. We are always approachable and accessible.
BE AUTHENTIC

We embrace our differences knowing that we're better as a team than individually. We're committed to constructive collaboration that sharpens our thinking.
BUILD COMMUNITY

We invest in our local communities by encouraging our teams to pursue their passions and give their time to causes they believe in.
COACH

Coaching and mentoring are some of the greatest investments we can make. Sharing experiences and wisdom that help raise up the next leaders is a privilege.
ENJOY THE JOURNEY

We find purpose in the journey, not just the outcome. We embrace challenges knowing transformation cannot happen without a few failures along the way.